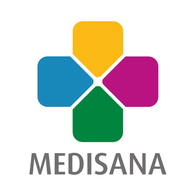 Medisana GmbH
Carl-Schurz-Strasse 2
D- 41460 Neuss
Germany
Telefon: +49 (0) 2131 / 36 68 0
Telefax: +49 (0) 2131 / 36 68 50 95
E-Mail:info(at)medisana.de
Internet: www.medisana.de


Legal domicile of the company:
Medisana GmbH
Carl-Schurz-Strasse 2
D- 41460 Neuss
Germany


Management:
- Thomas Hollefeld, Kwok Shing Ng
-
Registration court: District court Neuss Registration number: HRB 16348
Value-added tax identification number according to § 27 Value-Added Tax Law: DE 123375019
Responsible for contents according to § 6 MDStV: Thomas Hollefeld, Kwok Shing Ng


Liability
In spite of careful examination and monitoring of contents we shall not assume any liability for the contents of external links. The operators of such external, third party sites shall be exclusively responsible for the content of linked pages and sites.
Copyright
The information published on this website (copy and images, graphics, sound, animations, videos and similar) and its structure are subject to the copyright of Medisana GmbH, and in part also to the copyright of third parties. Without our written consent, reproduction, distribution, rendition, forwarding, storage and any other utilisation are expressly prohibited.